My son just turned 5. His latest interest has been cooking. What better theme for a birthday party? The children loved every minute of it! They were each greeted with a homemade chef's hat and apron. While waiting for other guests to arrive, they played around the kitchen table with pretend slice and peel food from Melissa and Doug and Hands on Fun. Once everyone had arrived, we began making a pizza. They each took a turn sprinkling the dough with flour and rolling it out. Then they took turns adding sauce and spreading it around. Ditto for sprinkling the cheeses and pepperoni... all the while dancing to fine tunes such as "Frim Fram Sauce" and "Papa Loves Mambo".


While the pizza baked we made salad on a stick: bamboo skewers, chunks of cheese, cherry tomatoes, and diced cucumber (snacking a bit as we went).


Then they played with sticker scenes from Hands on Fun, which gave us a great opportunity to discuss the basic food groups. And as the pizza cooled, they decorated cupcakes with their choice of icing, colored sugars, candy toppers, and a candle for Jonah to blow out.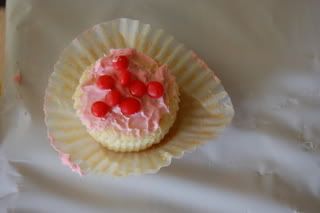 We sang the birthday song to him and carried our feast outside to the picnic table, which was decorated with unbreakable/indestructable china and a floral centerpiece (drawn on a disposable table cloth with markers).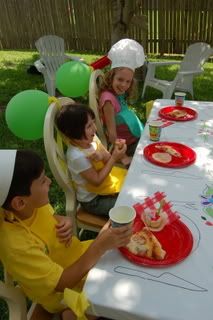 Each guest took home a small pizza box - decorated with these fun chipboards - filled with goodies and a "thanks for making my party really cook" note tied to a miniature rolling pin.